Someone close to my heart is getting married next month and I've been thinking of the perfect gift for them. I realized that the more the person is close to you, the more it's hard to decide on what gift to get them because you want it to be base on their personality and needs. As the giver, I want it to be practical and functional. Something that they can used as they start their lives together. I thought I'd share my picks and create a round-up if you too are looking for something to give.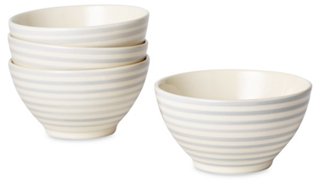 Marseille Stripe Cereal Bowls, Gray
**This post contains affiliate links and I will be compensated if you make a purchase after clicking through my links.